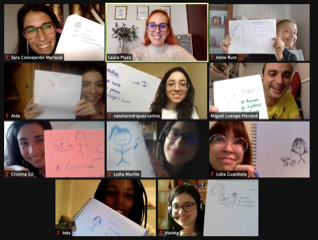 We NATIVES wish to use and strengthen the native part everyone has at birth: the instinct of preserving people and the environment, by empowering people. We humans are facing a historic opportunity to act here, now, and always together.
Design for Change (Spain) is convinced that each child, boy or girl, can become aware of his/her POWER to be the protagonist of his/her learning and get involved in the well-being of the local community by offering helpful solutions.
Thanks to a lucky coincidence, we are now partnering to enhance educational programs and include sustainability in courses, within the framework of Sustainable Development Goals (SDGs), and with teamwork as an essential value.
NATIVES and Design for Change (Spain) are movements that share a global vision and dedicate their energy, passion, and talent to local action. They bring tools to make Change occur "not by chance, by design". These methodologies are indeed complementary; thanks to this teamwork, students are helped to get locally involved and provide solutions to problems that concern them the most, according to gender. Design for Change (Spain) takes part in the second stage – Act – of NATIVES three-stage method (Learn – Act – Share). It ethically helps students to grow up as independent, creative, and committed people, giving them tools to become the designers of their own life. The DFC Methodology is an innovating and systematized process that includes the I CAN thinking; it empowers students and make them aware of their role as change makers by setting up social entrepreneurship actions. These actions inspire empathy, creativity, teamwork, critical thinking, collaborative leadership, and above all the capacity of learning and teaching.
The help of teachers is necessary to make it happen. DFC (Spain) is aware that transforming Education implies great responsibilities. It is a significant challenge. For this reason, NATIVES and DFC (Spain) support teachers: we provide them resources to turn classrooms into suitable places for experiencing Change.
DFC is a worldwide movement settled in more than 70 countries. Since its creation in 2009, it uses Design Thinking as a basis for its methodology, in order to introduce design in classrooms and make pupils and students active and responsible citizens.