The Marist Compostela Province and NATIVES join forces to develop educational projects that awaken the eco2social awareness of their students. Both organizations share the concern for the care of the common home and building together, as a global family, a better world.
The Compostela Province joins NATIVES with the 14 Marist schools in Castilla y León, Galicia and Asturias. This action stems from the Eco2Social Framework that indicates the way forward in this area with lines of action, management and training in concepts ranging from the ecological footprint to equality, rights or interiority.
Marist schools work to awaken and develop eco2social awareness from an inclusive and Christian perspective that promotes solidarity, responsible consumption and sustainability. As a result of this alliance, Marist educational centers will share eco2social projects with other schools through the NATIVES Platform.
NATIVES Schools work in an agile, efficient and simple environment the four stages of the NATIVES Cycle: "They learn" about the main challenges in Sustainability, they "get inspired" from other Schools that face similar projects, "They act" developing their own projects and they know the "Impacts" they are generating.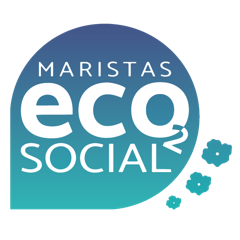 Marist Compostela Province
The Marist Compostela Province is an institution that has developed its educational, for more than one hundred years, in Portugal, Honduras and the regions of Asturias, Galicia, Castilla y León in Spain.
More than 2000 educators in 17 schools, 2 senior schools, social works and youth movements, who every day make more than 15,000 children and young people protagonists of their own learning process, using their own educational model, based on spirituality, solidarity and teacher updating , to achieve social transformation.